SPECIAL NOTE
Complementary therapies are intended to be complementary to conventional medicine, and are not intended to replace either medication or traditional healthcare. Nor are they intended to replace proper diagnoses and/or treatment by a qualified medical practitioner.

Indian Head Massage
What is Indian Head Massage?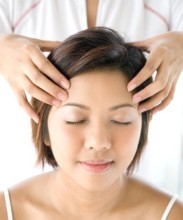 Indian Head Massage is a simple and deeply relaxing therapy that is very effective in combating the pressures and stress of modern living. Indian Head Massage involves massage to the upper back, shoulders, arms, neck, scalp and face. Treatment can either be relaxing or energising, to meet your particular needs. You will remain fully clothed and be seated comfortably in a chair. There is also the option to have the treatment carried out using blended oils, in which case you would be provided with a towel to wrap around your upper body.

Oils on the hair itself is optional but not necessary if you don't wish!
What are the benefits?
Although

an Indian Head Massage

involves only the upper part of the body, the potential benefits are widespread. The treatment has many physiological and psychological benefits, and many recipients of Indian head massage comment on the fact that they feel as if their whole body is balanced after treatment.

Indian Head Massage is especially good for reducing stress, tension, fatigue, eye strain, insomnia, headaches, migraine and sinusitis. Clients report that the experience is deeply calming and relaxing, leaving them feeling energised and revitalised and better able to concentrate. Additionally, Indian Head Massage can help promote healthy hair growth and improve the condition of the scalp.

Possible effects you may experience are:


WORKSHOPS
Learn to perform an Indian Head Massage on your family and friends! Workshops running in Northam, and Plymouth throughout the year. More details here!

Relaxes tense muscles

Calms the mind

Improves concentration

Improves energy levels

Improves blood circulation

Improves lymph circulation

Cleanses and detoxifies the body

Pain relief

A lifting of your mood

Strengthens the immune system

Leaves you with a general feeling of wellbeing
Who can benefit?
Indian Head Massage is suitable for men, women and children of all ages. It is very suitable for pregnant ladies, particularly as they

find the sitting position very comfortable as opposed to therapies where you need to lie flat.

Indian Head Massage is a safe and enjoyable therapy, but there are a some medical conditions where it may not be advisable to carry out treatment, which is why a full consultation is carried out before commencing. This also allows the treatment to be tailored to your own needs.

How much does a session cost?
Full Treatment
30 mins. £20.00
45 mins. £25.00

Sarah offers Indian Head Massage sessions from her tranquil treatment room in Northam, near Bideford, in North Devon, and also runs workshops in North Devon and in Mannamead, Plymouth, PL4.
Copyright © 2018| Complementary Therapies with Body and Mind Zone, Northam, Bideford, North Devon.