A facial is one of the best ways to take care of your skin, especially when it's given by an experienced therapist. A facial cleanses, exfoliates and nourishes the skin, promoting a clear, well-hydrated complexion, and can help your skin look younger. A facial works best when it is part of an on-going program of skin care, both at home, and with regular professional facials, but many people like to simply treat themselves occasionally, and will find it a wonderfully relaxing, refreshing and rejuvenating treat!
A full facial includes a double cleanse, toning, exfoliation, heated towels or mitts, facial massage, hydrating mask (with a wonderful scalp massage while it does its work!), and finishing with moisturiser and eye cream. If you don't want your scalp massaged, you can opt for a hand or foot massage instead!
Sarah's "Age-defying Facial" includes the delicate decolletage (chest) too as the skin here benefits from the application of face products and the massage too.
Facials are good for most skin types, although special care may be needed with very sensitive skins. Sarah's facials focus more on the relaxation and rejuvenation aspects of a facial rather than the specific identification and treatment of skin problems, and you will leave your appointment feeling pampered and de-stressed, with your skin feeling smooth, fresh, and hydrated.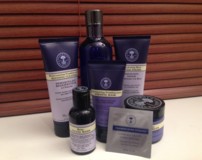 For anti-ageing results, Sarah uses products from the award winning range of Neal's Yard organic, natural, safe and ethical skincare. The "Age-Defying Facial" uses rejuvenating, hydrating, and radiance boosting Frankincense and Wild Rose skincare products, and includes the naturally age-defying* effects of Frankincense Intense Concentrate and Cream to reduce the appearance of fine lines and wrinkles and to firm, tone, and boost the skin's plumpness.

All products used contain no Synthetic Fragrance, Petrochemicals, Parabens, SLS or SLES.